Available everyday from 11:30am to 3pm
From $17
---
---
Make a booking at Meat District Co
Whether it is an intimate gathering with friends, social event or corporate function, Meat District Co. offers the perfect setting for every occasion. Book your spot and enjoy our express lunch options!
---
Sunday & public holiday 10% surcharge on total bill * one bill per table
Traditional Sunday roast with all the trimmings paired with harbour views creates the perfect Sunday setting.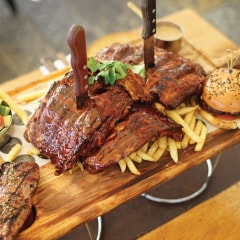 Discover a delightful menu with a selection of our iconic dishes. Let the addiction begin!
Grab a drink & get social at Meat District co Barangaroo for the best happy hour on the harbour.